Q1 Business & Consumer Dining Insights
for Restaurants and Corporate Travel Managers
State of Business Dining Report, Q1 | 2023
Our State of Business Dining Report, created in partnership with Technomic Inc, provides restaurants and corporate travel managers a semiannual review of business dining benchmarks and data.
What you'll learn:
What corporate card holder data reveals about business dining recovery.
Comparisons between business and consumer dining spend.
Which #COVID era dining behaviors are waning and which could be here to stay.
Positive trends for in-person events and conferences, and how those might impact restaurants.
Business vs Consumer Dining
Our BDIndex in combination with Technomic's consumer dining measurement shows how business dining fared against the general industry.
While consumer spending leveled off in 2022, the BDIndex steadily climbed as business travel rebounded. 
By Q4, business dining spend was 91% of what it was during the same quarter in 2019.
By Q4 2022, the BDIndex had more than tripled compared to its lowest point (Q2 2020).
The Q4 Technomic consumer dining spend was measured at 107 — a large increase from the lowest point (66).
Top Trend: Business Dining Seasonality Patterns Return to Normal
A look at Enterprises and all restaurants in our program shows seasonality trends and geographic spending distributions have returned to pre-pandemic patterns.
There was a break from usual business dining patterns in the early days of the pandemic.
Now, the 2022 data is showing a return to normal dining patterns with peaks during traditionally busy times (September-October) and dips in the summer.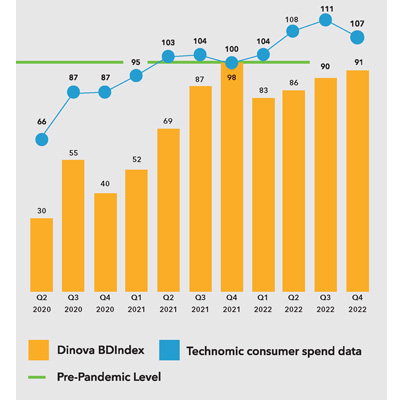 To offer statistically significant sales insights for the State of Business Dining, we analyzed the following data:  
Companies that participated in the Dinova program from 2019-2023.
Sales data from the top 1,500 US restaurant brands. Top restaurant brands may change for individual reports, but indexes are updated so that all historical data represents current list of top 1,500 brands. 
More than 5 years of pre-pandemic business dining sales data to inform annual patterns. 
Dinova makes business meals count. We operate a business dining program that includes a network of 22,000+ restaurants and more than 500 corporations, government agencies, and small to medium sized businesses in the US and Canada.
We are the only total business dining solution that delivers spend visibility, savings and an employee rewards program for companies while also providing a B2B strategy that drives growth for restaurants.
Complete our contact form to learn more about joining our business dining program.
Technomic Inc., a Winsight company, was founded as a management consulting firm in 1966. Since then, Technomic's services have grown to encompass cloud-based B2B research tools, consumer and menu trend tracking and other leading strategic research and analytic capabilities, to prioritize and size business opportunities. Our clients include food manufacturers and distributors, restaurants, retailers and multiple other business verticals aligned with the food industry that are looking to make informed decisions to support their business growth. Visit Technomic at www.technomic.com.  
Get your free State of Business Dining Report
What business dining trends should you expect for your specific region or restaurant category? Complete the form to learn more and download the report.